author jan bono
Welcome to JanBonoBooks!
After a 30-year teaching career, it's time to fully embrace my second love—writing!
My short, humorous, personal experience stories appeared in Guidepost, Woman's World, Byline, and Star, and then I discovered the Chicken Soup for the Soul series. This was such a good fit for my writing that I've been published in their books over 40 times, and I am now one of the top five contributors for Chicken Soup, worldwide!
I also write the Sylvia Avery Mystery Series, which are cozy mysteries set right where I live—right here on the Long Beach Peninsula—in the southwest corner of Washington state.
When I'm not writing, I'm available to do a variety of hands-on workshops for adults who've always wanted to write, and I love doing speaking engagements for any size group. Truly! I know many people do not enjoy public speaking, but I LOVE doing speaking gigs on a wide variety of topics, from open heart surgery to massive weight loss to how to write your memoirs!
October through December, I attend many holiday bazaars and craft fairs. Please check my CALENDAR page for specific details on where you can find me IN PERSON!!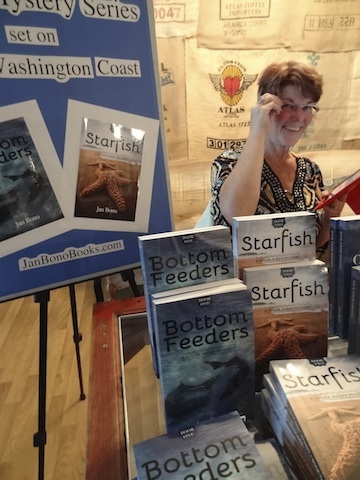 Cozy Mysteries
A "cozy" mystery has NO graphic violence, NO obscene language, and NO explicit sex scenes. A cozy takes place in a small town, has an amateur sleuth who works with the police department, a quirky cast of characters, and, especially in my case, a LOT of humor!
I have completed five books in the series, which will go most likely to six books, and possibly even eight! I very much enjoy putting words in my imaginary characters' mouths, and the ideas and plot lines just keep coming at me, so why quit now?!
Books 1 and 2, Bottom Feeders and Starfish, came out in 2015. Book 3, Crab Bait, was published in 2018, and Book 4, Hook, Line, & Sinker, in May, 2019. Oyster Spat made its debut in August, 2020.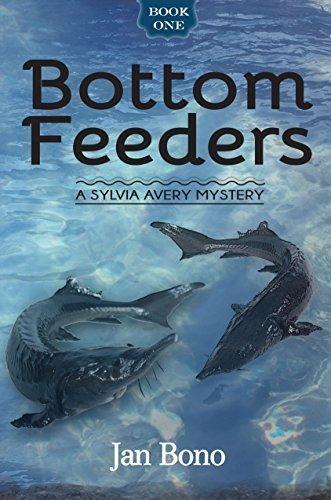 Something evil has happened at the Clamshell Motel, and early retiree Sylvia Avery is right in the thick of it. With insider help from Mercedes, her mature but mischievous lounger friend at the Spartina Point Casino and Resort, Syl works to prove that Harold Rodman the Third, a.k.a "Uncle Harry," is up to something fishy.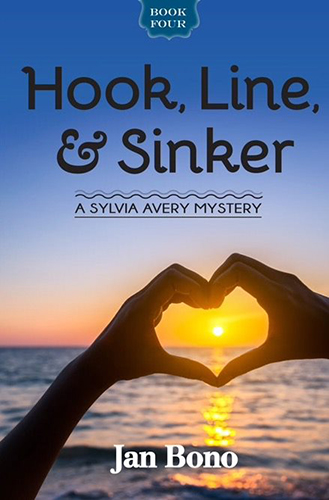 Hook, Line, & Sinker
Those frolicsome geriatric belly-dancing widows of the North Beach Peninsula are looking for love again, and Sylvia Avery is recruited to help them navigate the hoops, hurdles, and hustles of online dating. Love is in the air, online and elsewhere, but Sheriff D's background checks reveal that a few of these fellows are up to no good. Can they be stopped before someone gets killed?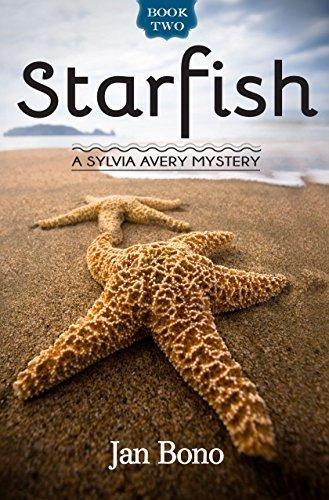 Starfish
A movie production crew has come to the coastal community of Tinkerstown, but before they first scenes are shot, two murders have been committed. Although the MOs are quite different, Sheriff Donaldson doggedly searches for any possible connection between the two deaths.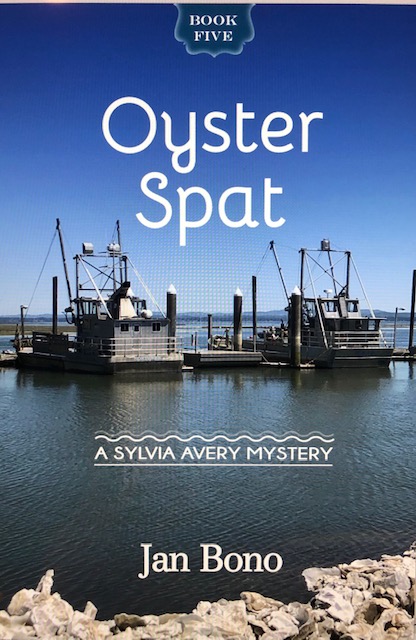 Oyster Spat
The feud between Shallowwater Bay oystermen Brent Booi and Tom Diamond is decades old. Environmental issues, tideland ownership, and burrowing shrimp control are only a part of their ongoing disputes which escalate as time goes on.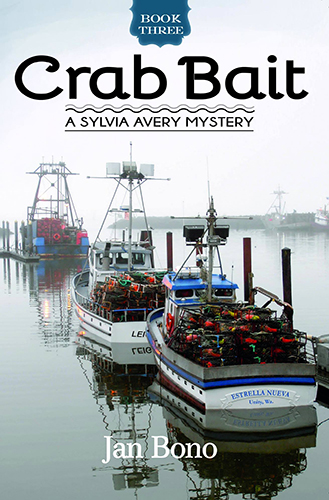 Crab Bait
The merry geriatric belly dancing troupe may be just a tad too merry, considering all of them have become recent widows. But what about those hefty life insurance policies? Is it the money that's putting a spring back into their step? Sheriff Donaldson, with a little help from some unexpected sources, is determined to get to the bottom of these untimely deaths.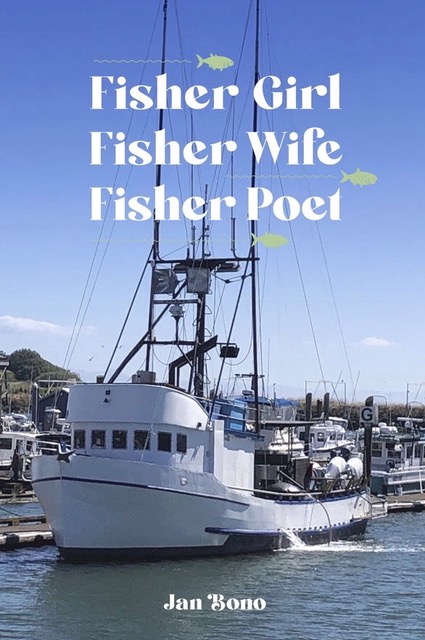 Fisher Girl, Fisher Wife, Fisher Poet
Jan's paternal grandfather was a commercial fisherman on the Mississippi River in the 1930s and 40s. Growing up in the Puget Sound area, her father often took her fishing with him for a wide variety of species. She was married to a midwater dragger deckhand during the 1980s and has lived "at the corner of Columbia and Pacific" for over 40 years. The love of fishing, both commercial and sport, resides deep in Jan's heart.  88 pages; 31 poems plus over a dozen photos.
Bono's stories have been featured in 41 "Chicken Soup" books, making her one of the series' TOP FIVE CONTRIBUTORS, WORLD WIDE.  Her ten years writing an op-ed newspaper column garnered 11 Washington Newspaper Publisher Awards (WNPA). She has written 5 humorous, personal experience short story collections; two poetry chapbooks; a collection of short romances; a book about her 252-pound weight-loss journey; nine one-act plays as well as a dinner theater play. She also has been published in numerous magazines, including "Guiding Post," "Star" and "Woman's World."  Winner of multiple regional writing competitions, Bono was the grand prize winner in the 2012 Coast Weekend serial mystery chapter contest. That experience inspired her to write her mystery series she describes as being like "Murder, She Wrote" –with a lot more humor.
"chicken soup for the soul" book features
Washington Newspaper Publisher Awards
One of Bono's more memorable columns was about putting tinsel on her Christmas tree while naked to keep the foil from clinging to her bathrobe.