author jan bono
Welcome to JanBonoBooks!
After a 30-year teaching career, I've fully embraced my second love—writing!
I now have 17 books available, ranging from collections of my 11-time award-winning humorous, personal experience newspaper columns to 56 stories (and counting!) published in the Chicken Soup for the Soul series, making me one of their top five contributors, worldwide!
The Sylvia Avery Mystery Series is a 6-book cozy mysteries set right where I live—on the Long Beach Peninsula—in the southwest corner of Washington state.
If you enjoy reading books of a more serious tone, consider Is there Room in the Backyard for One More Body? or Pen Pals, both more dramatic fiction than my previous books.
When I'm not writing, I'm available to do a variety of hands-on workshops for adults who've always wanted to write. I truly love doing speaking engagements for any size group on a wide variety of topics, ranging from a humorous take on open heart surgery to massive weight loss to how to write your own memoirs!
September through December, I attend many holiday bazaars and craft fairs. Please check my CALENDAR page for specific details on where you can find me IN PERSON!!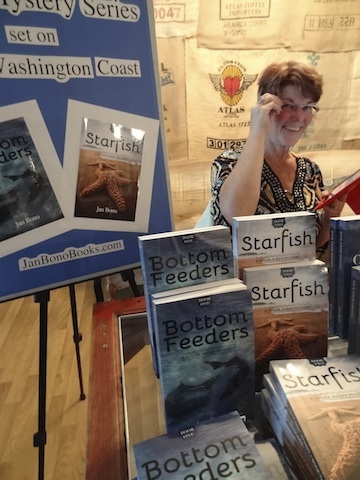 Cozy Mysteries
A "cozy" mystery has NO graphic violence, NO obscene language, and NO explicit sex scenes. A cozy takes place in a small town, has an amateur sleuth who works with the police department, a quirky cast of characters, and, especially in my case, a LOT of humor!
The Sylvia Avery Mystery series is now complete with six books, all set on the Long Beach Peninsula in SW Washington.
Books 1 and 2, Bottom Feeders and Starfish, came out in 2015. Book 3, Crab Bait, was published in 2018, and Book 4, Hook, Line, & Sinker, in May, 2019. Oyster Spat made its debut in August, 2020 and Tsunami Warning was published 2021.
Bono's stories have been featured in 56 "Chicken Soup" books, making her one of the series' top five contributors, worldwide. Ten years writing an op-ed newspaper column garnered her 11 Washington Newspaper Publisher Awards (WNPA). She has written several humorous, personal experience short story collections; poetry chapbooks; short romances; nine one-act plays; a dinner theater play; and two books of "serious fiction." Bono was the grand prize winner in the 2012 Coast Weekend serial mystery chapter contest. That experience inspired her to write the 6-book cozy mystery series she describes as being like "Murder, She Wrote" – only a lot funnier.
"chicken soup for the soul" book features
Washington Newspaper Publisher Awards
One of Bono's more memorable columns was about putting tinsel on her Christmas tree while naked to keep the foil from clinging to her bathrobe.